We may have whizzed through Texas and zipped through the rest of the South but we've taken our time here in Raleigh.  Over a week.  The week before was so packed with activity, this week pales in comparison.  For one thing, we've been doing a lot of running around and a lot of resting.  Neither is very exciting to write about.
Julie's cousin Leslie and her husband Darryl moved here last year.  Just before that we spent some time with them in New Hampshire where they used to live.  We had such a great time in New Hampshire we decided to move to the Northeast.  But Leslie and Darryl are part of the reason we had such a good time, and they were leaving.  That thought made us feel sad.
When we decided to go the Southern route to get to New England we realized we would be traveling through North Carolina.  Yay!  More time with Darryl and Leslie.  They each took a day off work so we could all spend a three-day weekend together.  Most of the weekend was spent in spiritual activities and just generally catching up.
Monday we spent the afternoon at Jordan Lake

Jordan lake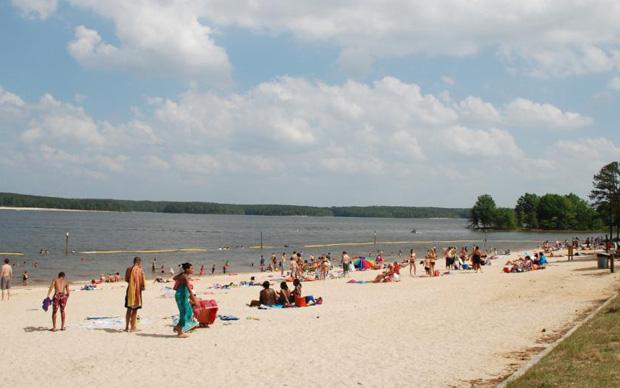 (much less crowded than this on a Monday) then it was back to work for Darryl and Leslie.
Our nine nights here we parked overnight in three types of places.  When we got here it was nice and cool, as I mentioned, from the rains that greeted us.  We spent three nights at Wal-marts, one in Wake Forest and the other near Old Wake Forest Road in Raleigh.
Wake Forest is one of the fastest growing suburbs in the country.  I can see why.  It's a pretty place located near Raleigh and not far from beach and mountains.
Raleigh, the capital of North Carolina (which you might remember if you ever had to memorize state capitals in school), was named after Sir Walter Raleigh, who was well known for being famous.
After we were here three nights we had time to scout the place out like we did in Portland and discovered a nice spot called the Plantation Point shopping center.  We found an out of the way place near some tall trees that were shaded until the middle of the morning, the time we usually were ready to go about our business on the road.  We spent three nights there.  We were between two shops that open in the middle of the morning and the one we were parked next to isn't open for business yet.  The construction workers didn't seem to mind us being there each morning, but we probably wouldn't have chanced too many more days in the same spot.  As the sun was starting to hit the side of the motorhome on the last day, future fellow full-time RVer Jay was driving by and we chatted about the RV life for a while.  He's getting ready to make the leap too.  He and I have both learned a lot about RVing from blogs and Youtube.
Opening soon, but we won't be here to see it
Getting sunny.  Time to move on
After six days of relatively cool weather, guess what?  Yep.  The closest campsite was the NC fairgrounds and that's where we spent our final three nights.  We spent a whopping $30 a night, which isn't much but was more than we'd spent on other campgrounds along the way.  It was worth it.  Air conditioning is nice.

Where else can you find homes costing half a million dollars right next to those worth less than $50,000?  A campground is an equalizer of sorts.
Our campground was tucked away and a little hard to find.  The GPS said our "address" was near 399 Gary St.  It was.  You won't be able to drive there on Gary St but I took a walk over to Gary St and here's the end of the street:

There's a little break in the bushes (see if you can spot it in the Gary St pic above) where you can see through to the campground.  Peek-a-boo!

I wonder if anyone in Portland has thought about doing this.  People routinely drive 40 past the Powell Butte KH even though the signs are clearly posted 25.

Every place is known for something


NC fairgrounds has some interesting architecture.


Especially eye-catching at night

There are handy hooks in the parking lot so they can move the cement to another place if they need it.


What I didn't photograph: fireflies!  I saw a few on my walk and they are so cool!
Jaden stayed with Darryl and Leslie the last four nights.  She had such a good time she didn't want to leave.  Maybe we can convince her to write an entry about it.
I've held off talking about some of the minor issues we've had along the way.  Overall things have gone quite smoothly but I've learned what my fellow RV'ers meant when they talked about always fixing things.  We had some minor malfunctions that were slight inconveniences but didn't really cramp our style much.  For example, shortly after replacing the water pump the water started trickling out again.  I've made reference to this already.  It turned out to be a clog in the water tank.  A little compressed air broke up the clog, and we haven't had any trouble with it since.
Another small problem was that our refrigerator couldn't keep up when the temperature was above 80 degrees or so.  At first we suspected a mechanical problem and I even made an attempt to repair it but then we discovered it was a design issue.  There just isn't enough ventilation to keep the fridge cool when it's hot.  Living in the Pacific NW, the previous owners apparently didn't find this a big enough problem to seek a fix for.  We bought a solar fridge vent in Raleigh.  It's just a vent cover with a small solar panel that connects to a fan you mount above the fridge coils.  Now the fridge is working better.  We've had a couple other problems pop up but they aren't even worth mentioning here.
I'm writing this as we are leaving Raleigh and it's quickly coming to the end of our trip.  Our trip really didn't have an endpoint when we started.  We just took a mental dart and threw it roughly in the direction of Massachusetts.  It was sometimes a bit awkward when people asked us where our destination was and we told them we didn't have one, yet.  But we weren't worried.  I'd read somewhere that it's easier to direct a vehicle that's in motion.  And we were definitely in motion.  Now we have a destination, and the timing couldn't be better.  To be honest I'm ready to get back to work.